Andy's Antiques Page.
Art page 2

pair of watercolours attributed to Catherine Holmes 1848--1925.
Born Geelong Australia, came to Dunedin New Zealand 1859 where they lived in Anderson Bay except for some years when they were in Lasswade out of Edinburgh, Scotland while the boys were being educated there, and the girls had a private education with art and music masters. As a young woman back in Dunedin she was part of the Hodgkin's Circle belonging to the Art Club and exhibited with the "Otago Art Society" from 1876: was on the council 1886-87.
These watercolours were found in a folio with other works by her.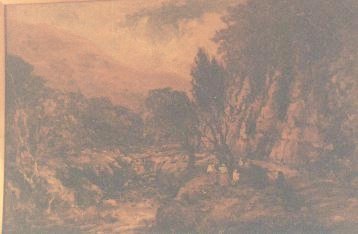 near BETTWS Y COED Wales 1933
oil by Blythe Fletcher 1890--1945
Fletcher was born in Yorkshire 1890 and migrated to New Zealand in 1909, and married 1916, painted mainly in tempera & watercolours and often combined both. He also did oils which are scarce. Exhibited with the "New Zealand Academy of Fine Arts" and his better work is competent and varied. Since 1980 his work has been keenly sought and prices doubled. By 1985 his works were selling for 10 times the 1970's value and are still rising.


Blueskin Bay from the Killmogs Otago New Zealand?
watercolour attributed to Madden 1856-1923, 19th century artist.
Madden was known mainly for oils of New Zealand sounds but also painted in watercolour. Born at Wakefield, Yorkshire, England. Studied at South Kensington School of Arts and was appointed drawing master at Wakefield Grammar School. Migrated to New Zealand 1877 and settled in Christchurch. Was drawing master at Christ's Collage 1895-1920, in 1922 he went to Auckland where he died.
.


Naples
watercolour by H Gianni c1915.

---------
b

oil by A Schwartschild 1909.
a German artist working in Paris


yo
watercolour of "Mountain Pass" by Louis Neville 1852-1919.
The well born son of Ralph Neville-Grenville of Butleigh Court, Glastonbury, England, he settled in Dunedin in 1876 in time to have works hung in the first "Otago Art Society" exhibition. He is also listed in the English Dictionary's of Art



"From Queens Street Dunedin" watercolour by A J Prout-Driver c1930.
Mrs. Prout-Driver wife of H. H. Driver a Dunedin Bookseller, was a working member of the "Otago Art Society" from 1914 until about 1931, she painted almost entirely in watercolours, favouring landscapes


Gulls No2
oil by E S Richie (nee E. S. Churley) 1868--1948.
A long serving member of the "Otago Art Society". Council member and veteran exhibitor, she exhibited oils, watercolours, and craft work from the time she and her husband arrived in Dunedin from Australia and later took lessons from J. Elder Moultray.



Owaka estuary
watercolour " False Inlet, Catlins River Otago "by William Stewart Weeding Roberts, 1853--1937. Dunedin artist.
Dr. Roberts moved to Dunedin Hospital in 1878 fro Oamaru to become a well known local medical Practitioner. He taught pathology at the Medical School in 1885, he was a friend and sketching companion of John Halliday Scott and W. M. Hodgkins. He exhibited with the "Otago Art Society" between 1880 and 1907, he was a Council member 1893-1920. and a Vice-president 1905-1919.



Please press
Thank you for visiting me come again..